It is widely recognised that Pluripotent Stem Cells (PSCs) need close monitoring to ensure their genomic integrity throughout prolonged cultures. However, the challenge remains in putting the theory into practice: How frequently should PSCs be tested? And which steps are critical in the process?
In this article, we provide specific guidelines for the genomic integrity characterisation of PSCs. They are based on recognised publications and on Stem Genomics' experience in PSC quality testing.
The most frequent genomic abnormalities encounter in PSC are essentially copy number variations (CNVs) that constitute a real cause for concern as they reflect a selection pressure that may favour hPSC proliferation and survival, or reduce their differentiation capacities (Assou et al., 2018).
In the schematic figure above, you can see at a glance the key steps when genetic stability should be tested. The aim is to avoid the unnecessary waste of resources and time on potentially abnormal cell lines.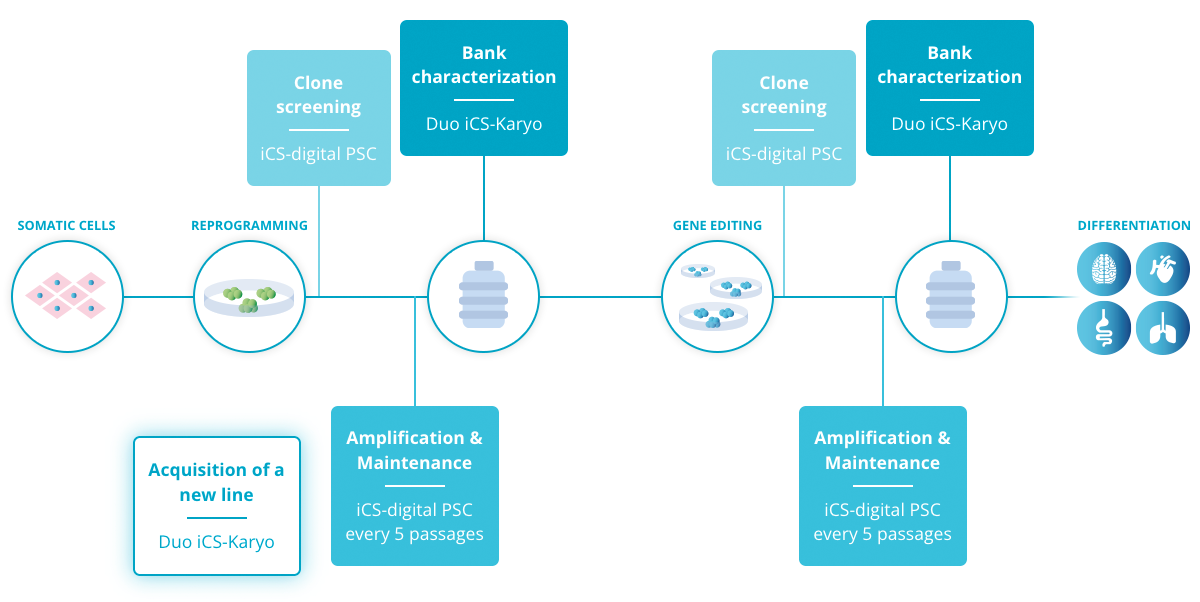 I. Stages when testing should be considered
1. In-process control during cell amplification & maintenance: considering the speed at which a recurrent abnormality can take over the culture, Stem Genomics and others (McIntire et al., 2020) recommend to test PSCs at least every 5-10 passages.
2. Clone screening: these procedures could favour the generation and selection of genomics aberrations in PSCs. The rapid screening of clones and colonies is therefore essential before any subsequent use.
3. Bank characterization: genomic stability is one of the critical features required for the complete characterisation of a cell line.
II. The technologies we have selected for you:
Among the many tests available on the market, we have built this workflow with budget and time criteria in mind, as these are the constraints most research scientists face every day.

We have selected two reliable and affordable technologies:
– Karyotyping: this is the standard technique for genome stability determination. It provides important information about numerical and structural alterations, and should be performed at least at the beginning and at the end of a project. This characterisation method confirms with 98% probability that the tested cells are karyotypically normal. However, while useful, it cannot be regularly performed, and it is not sensitive enough to detect small genetic alterations (Baghbaderani et al., 2016).
– Digital PCR: Digital PCR offers higher resolution than karyotyping, and can detect abnormalities that cannot be identified by karyotyping, including chromosome 20q.11.21 amplifications that are the most common genetic abnormalities found in PSCs. Digital PCR amplifies targeted genomic fragments in thousands of individual reactions, thus allowing nucleic acid quantification and detection with high precision. Additionally, digital PCR is a fast method (results can be obtained within one day) and reasonably priced, more suitable for in-process testing as well as for screening a large number of clones after gene editing. Read our April Newsletter for more information on digital PCR and the digital PCR-based tools developed by Stem Genomics specifically for human PSC testing.